Facebook has come up with some more features that will allow users to customize their post comment and news feed sections. The platform gives more control over the experience on the website with some upgradation of the filters.
Following are the updates that Facebook has announced for the users:
Users can control who can comment on their posts.
Users now can filter their news feed.
Learn more about why a recommended post is getting shown in their news-feed.
Recommendation:
Facebook Announces New Messenger Branding & Releases New Messaging Features
A. Regulate Comments On Post
Facebook users now regulate who can comment on their posts. This feature is available both at the account and on the individual posts as well.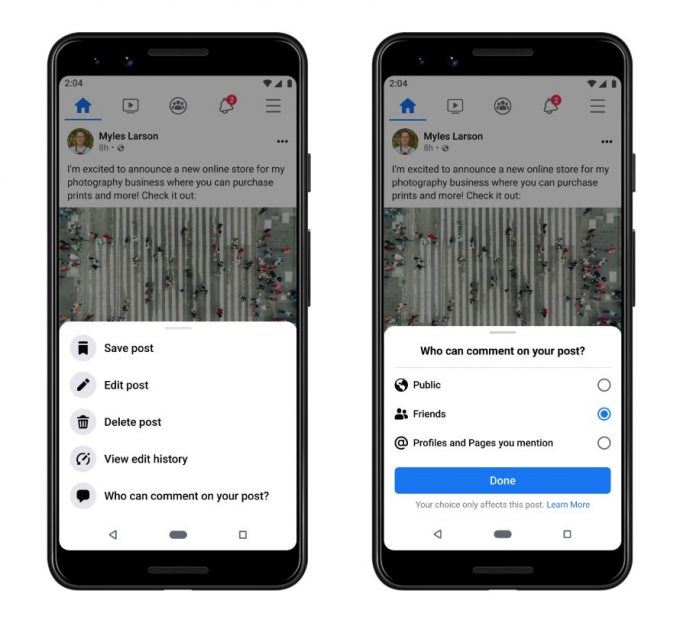 From the following options users can select who can comment on your posts:
Public (Everyone)
Friends
People & pages mentioned in the post
By adjusting your commenting audience, you can further control how you want to invite conversation onto your public posts and limit potentially unwanted interactions. And if you're a public figure, creator or brand, you too can choose to limit your commenting audience on your public posts to help you feel safe and engage in more meaningful conversations with your community.
Steps To Regulate Comments On Post
Go to the post on your profile that you want to change who can comment.
Tap on the three-dot menu of the post.
Press "Who Can Comment On Your Post"
Select the options from the list who can comment on that post.
B. News Feed Filters
Facebook is adding some more filters in its news feed section. This will allow users to choose what they want to see when they open the app or website. There is a new menu at the top of the news feed which is known as "Feed Filter Bar', it gives quick access for the Favorites and Most Recent Filters.
Favorites Filter – It is a tool that enables users to choose what they want to see from the 30 self-chosen profiles and pages. Posts from chosen profiles and pages will come first in order and can be viewed on their own when the filter is applied.
How to Manage Favorites Filter:
Tap on the down arrow icon present at the top right corner of Facebook.
Press Settings & Privacy.
Click on News Feed Preference
Press Manage Favorites
Tap the star icon for selecting your Favorites.
2. Most Recent Filter – It is a tool that allows users to watch news feeds in a reverse chronological manner. It is totally opposite to the Facebook algorithm.
For now, Android app users will be the first ones to see the "Feed Filter Bar" when they scroll up their News Feed.