It is obvious that journalism is an important aspect in order to keep people aware, therefore, the news is the fastest growing aspect in this. As a result, to match with pace, Google made several partnerships and introduces its new tool known as "Google News Showcase." 
Last week, Google launches the beta version of "Google News Showcase" in Australia. The main focus of Google is to become the sole publisher for providing local as well as global news in Australia. This tool does not just help users but also a good opportunity for publishers too.
Recommendation:
Google News Showcase
Google designed News Showcase in such a manner that it gives benefits to both publishers and readers. This is a good platform for publishers to curate their content on different Google services.
From last year's launch, Google has near about 450 publications in a couple of countries such as the UK, Germany, Brazil, Argentina, Canada, and Japan. Last month itself, the company has announced a deal with Reuters and from publishers in France.
Words By Zoe Dattner (Head of Publishing Operations at Private Media)
Private Media has always welcomed the opportunity to explore new platforms and experiment with how we get our journalism out there, and we're looking forward to what we can learn by having Crikey and SmartCompany appear on Google News Showcase.
Benefits By News Showcase To Publishers
Google News Showcase will give publishers a platform to publish their news and build a connection with the readers.
The new layout gives an enhanced view of the news articles which attracts more readers and allows publishers to present their content according to their wish. The panel will appear on Google News over android, iOS, and mobile web. The company is also thinking to bring Google News and Discover on different platforms.
Every article that is present in the panel is directly linked to the publishers' website that will increase the website traffic and brings more subscription opportunities.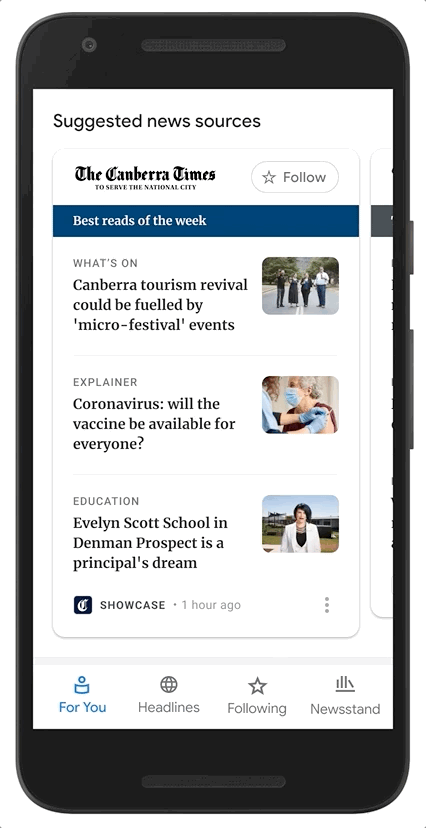 Analytics
This is like a cherry on the cake as Google will provide the analytics to the publishers. In the coming months, they can see their showcase data over Google search console only. This will help publishers to understand readers' behavior even better.
Tony Kendall, CEO of Australian Community Media
As a digital and content-focused media company serving Australia's major regional population centers, ACM is always looking for new ways for our trusted news brands to deliver their unrivaled local news coverage to the widest possible audience.

Whether it's on our new apps or our websites, via podcasts, social media, newsletters or the printed newspaper, we want the journalism of mastheads like The Canberra Times and Newcastle Herald to reach our communities wherever they are. Showcase is an opportunity for our 14 daily titles to curate their trusted local journalism for Google News users and we are working constructively with Google to explore the exciting potential of this product to engage mobile audiences.
Conclusion
As Google News Showcase is present in Australia, it becomes easier for the readers to get the information content from the news company whom they trust. They can also look for new discoveries where they have some interest. Not just this, readers can see the important articles many times and read as many times they want.